Thinking of ways to get your child involved in age-appropriate chores to do around the house? As many of us know, Montessori is all about practicing real-life skills. How to encourage your child to apply these skills learned from the classroom at home? Here are some ideas to get you started!
Weekly Work
Assign a work to your child and put them responsible for that job throughout the entire week. These tasks can include washing/stacking the dishwasher, tidying the coats and lunch bags, assisting in getting snack together and sweeping the kitchen floor. Below are some more age-specific tasks for your child to take part in!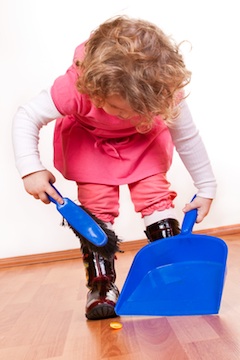 Chores for Ages 2-3
Even toddlers can assist in some simple chores around the house! After they are done playing with all their toys, ask them to put their toys back in their box. They can even help to stack books on a shelf and place all their dirty clothes in a laundry hamper!
Chores for Ages 4-5
As your child gets older, tasks can become more extensive! If you have any pets at home, assist them in feeding your family pet. They can even help to wipe up any spills, make their bed and sort the clean silverware into the drawers!
Chores for Ages 6-7
Transitioning into younger elementary classes, your child will be learning new life-practical skills to assist you even more at home! Have them empty the dishwater, or even help to fold towels! If there's lots of leaves on the ground, you can even ask them to rake the yard.
Chores for Ages 8-9
At this age, your child should be able to load the dishwasher, wash their own laundry and fold their own clothes. You can even ask them to put away all the groceries once you get home from the store!
Chores for Ages 10-11
Continuing to work on the tasks above, your child can also assist you in cleaning the bathrooms, vacuuming the rugs and preparing simple meals at dinnertime.
Chores for Ages 12 and up
Mopping floors, mowing the lawn, ironing clothes and watching younger siblings. All things that your soon-to-be teen can assist you in! If you're feeling really nice, you can even bribe them with a small allowance (this usually worked for me when I was a child)!
For more chore options and age-appropriate works for your children, click on this link below!
http://thehappyhousewife.com/home-management/age-appropriate-chores-for-kids-printable/